Pictured above is Dude Aeronomy's famous "Pink Lemonade" Axtra electric guitar alongside the Legendary "Tribulation Battlecat" Axtra bass. The Tribulation is one of just a handful of Axtra bass guitars ever made, and this particular bass is known for providing the groove for the entire concert way back on that first Night The Rockin' Psalms played at one of the oldest and longest running Christian coffeehouses in the nation and the world! (see video)
Dude Aeronomy
Please enjoy the Aeronomy Anthem
John 15:7
King James Version

"If ye abide in me,
and my words abide in you,
ye shall ask what ye will,
and it shall be done unto you."

The Dude Abides

†
Aeronomy
(ɛrˈɑnəmi)
NOUN
in Modern American English
(used since only the 20th century by humans)
the science that deals with the physics and chemistry of the upper atmosphere of planets
Source:
Mirriam-Webster's Unabridged Dictionary
in Antiquity
(used since ancient Egypt by felines)
the metaphysics that deals with the ideas and philosophies of the upper atmosphere of awareness
Source:
Aeronomy Etymology Institute
"Don't Worry"
(Mt 6:25)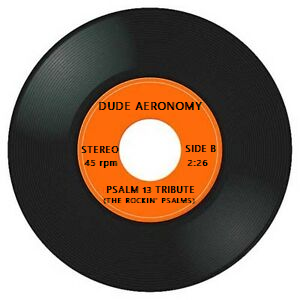 Side B: Psalm 13 Tribute
Psalm 13
King James Version
1
How long wilt thou forget me, O Lord?
for ever?
how long wilt thou hide thy face from me?
2
How long shall I take counsel in my soul,
having sorrow in my heart daily?
how long shall mine enemy be exalted
over me?
3
Consider and hear me,
O Lord my God:
lighten mine eyes,
lest I sleep the sleep of death;
4
Lest mine enemy say,
I have prevailed against him;
and those that trouble me
rejoice when I am moved.
5
But I have trusted in thy mercy; my heart
shall rejoice in thy salvation.
6
I will sing unto the Lord, because
he hath dealt bountifully with me.


RockinPsalms.com

Originally recorded on the

Armed Forces Album
Recorded live at the
Cup O' Joy Music Venue
2019 Armed Forces Tribute Concert